Our booties play a huge role in our life. Not only it helps us feel super sexy but it supports us to properly function the body and the movements related to this area. Therefore, let's do these ultimate butt exercises you can do for a bigger butt (at home) and break the whole misconception of "You can't build a bigger butt at home".
Know your butt
Before you start your butt workout it is important to know what you are actually training. Our booties are primarily made up of 3 muscle groups.
These are called the Gluteal Muscles.
Your butt is mostly shaped by the Gluteus Maximus. This large muscle is responsible for powerful movements such as standing up from a chair, walking and leg extension.
Gluteus Medius and Gluteus Minimus are there to balance our hips and outward rotation of the legs from the center of the body.
The abduction or moving our legs from the midline of the body is mainly controlled by these two muscles.
Now you have a basic idea what these muscles are in charge of. This is why a weak butt can ruin our whole body's equilibrium and cause unwanted troubles.
Likewise, it is crucial to include exercises for butt which train all of these muscle groups.
Don't worry I got you covered!
Let's start building that sexy booty!

1. Glute Bridge
Glute Bridges are one of the best exercises to do for building glutes. On top of that, it is super convenient.
Lie down on your mat and bend your knees.
Keep your feet closer to you about shoulders' width apart or closer together.
Now, raise your hips from the ground to reach a straight level.
Squeeze your butt at the top and stay for 5 seconds.
When you come back down, don't put your butt on the mat to maintain the tension.
There are many varieties of this exercise, such as doing the same movement with one leg or narrow stance.
Do what is convenient and feels effective for your body.
The key for a bigger butt is slow and controlled movements with proper tension.
To intensify the exercise,find out whether you have a dumbell, plate or any weight which is suitable. Then keep it on your hips and do the exercise.
Do 15 reps of these for 3 rounds.
2. Hip Thrust
These are a lot similar to Glute bridges and many fitness influencers either go with the Glute Bridges or the Hip Thrusts when it comes to butt exercises.
Keep your upper part of the body in a couch edge or a bench.
Bend your knees and keep them at shoulders' width apart.
Your lower body is completely supported through your feet and your glutes.
Now, you can either keep your arms on your chest or spread them across.
Start dipping your butt and pushing it up as you squeeze your glutes at the top.
Do this exercise slowly.
To intensify this buttocks exercise you can keep a weight on your lap. You can throw a couple of 15 reps of these for 2 three rounds.
3. Fire Hydrant
Another great exercise for the buttocks is Fire Hydrants. This can also be used as a great glute warm up exercise.
Keep your arms right below your shoulders and put your knees on the ground.
Straighten your back and keep your body in a straight line.
Now, with bending your knees, raise your leg to the side with a 90 degree angle.
Take it back to the starting position.
Finish doing 15 reps or more for one side before switching.
There are many variations of the fire hydrants. Some do a little kick at the end of the raise. Some do them with completely extending their legs.
The way of performing the exercise is totally up to you unless it is correct.
You can use a resistance band or a stretchy strip of cloth to intensify the exercise. Do 15 reps of these for each side in 3 sets.
4. Frog Pumps
Funny name, but not so funny when it burns your booty so bad. This is great for both your main booty and the side booty. Don't ignore these because this is among the best workouts for butt!
Lie down on your mat in the same position as you would for a Glute Bridge.
Now, keep your feet together forming a diamond shape.
Then, raise your hips up till they come to a straight line with your knees.
Squeeze your glutes for a couple of seconds.
Bring your hips down without putting them on the ground.
Just like a Glute Bridge, you can make this exercise harder by adding a weight on to your hips. Do 15 reps of these for 3 sets.
5. Donkey Kicks
Another great bigger buttocks workout is Donkey Kicks.
Keep your arms underneath your shoulders and knees underneath your hips.
Now, raise one leg up to the hip level.
Flex your foot as you push your leg up as if you are trying to push something up with your leg.
Now take your leg back down without touching the ground.
Do 15 reps of these for each side and throw in 3 rounds or more.
You can also do this with just keeping your leg in the air the whole time. This can pretty much make your butt feel like it's on fire.
You can incorporate a resistance band or a stretchy strip of cloth to mimic a weight.
6. Clamshells
This is probably my favorite glute exercise. I have the best butt workout session whenever I include these because they are excellent for my side glutes.
Lie on the mat from your side.
Bend your knees and keep your head supported by your hand on the ground.
Now, slowly open up your leg on top and close it down.
Squeeze as much as you can at the top.
You can do these with a resistance band to make it much harder. Believe me, these won't let you walk the next day if done correctly.
Always think about the tension you give to your side glutes.
You can open your leg and hold it for more of a burnout.
Do 15 of these each side for 3 rounds.
7. Walking Lunges
Lunges are great for the overall strength building of the leg muscles and glutes. Lunges should be a staple in your bigger buttocks workout schedule.
Stand up straight.
Extend one leg as if you are taking a huge step.
Bend the other leg to a 90 degree angle.
Stand up straight again with putting the tension on your forward leg.
Now repeat with the other leg.
If you are a beginner these can be somewhat tricky. Nevertheless, you can build up your leg strength with time. When you do, you can modify the exercise with incorporating two weights in your hands.
Do 20 walking lunges for 3 rounds.
8. Side Lunges
A beautifully proportionate posterior is created with the help of bigger but exercises which hit you from every angle.
Side Lunges may not scream intensity. But once you have started these, you will understand why these are one of the best booty workouts out there.
Stand straight.
Now, take a big step to the side and dip your booty down.
Don't bend your knee past your foot.
Now come back up to the middle and repeat with the other leg.
Do 15 reps of these for 3 rounds with or without weights.
9. Curtsy Lunges
This is another one of the killer side booty exercises you can easily do in the comfort of your home.
Stand with keeping your back straight.
Step back diagonally almost reaching the ground with your knee.
Come back up with the help of the forward leg.
Repeat with the other leg.
When exercising glutes it is necessary to train them with a proper amount of reps to hit them hard.
Therefore, do 15 reps of these for each leg for 3 rounds.
10. Hip Abduction
This is another one of the great side booty workouts that you can incorporate in your buttocks workout at home.
Stand up keeping your back straight.
Now, slowly raise your leg to the side as upwards as you can.
Don't bend your knees.
Bring the leg back down.
Keep doing 15 reps for one side, then switch sides.
Do 15 reps for each side and include 3 sets of these to your workout routine.
11. Single Leg Romanian DeadLift
Have you ever heard of the term "Under Butt" ? Yeah that is where this movement hits.
Doing this exercise, will burn the lower portion of your glutes.
Stand up straight with a little bend in your knees.
Now, lower your body forward with keeping your arms down.
Bring your leg upwards simultaneously to a straight line and bring it back down.
Don't bring the leg all the way near the other leg.
Just slightly touch the ground with the toes and bring the leg back up while lowering your upper body.
Balance your body without being wobbly.
This is one of the most effective home workouts for buttocks, not to mention you can do them with or without weights. Either way you will have great results.
Do 12 of these for one side and then move on to the next leg. Repeat for 3 rounds.
12. Abductor Squats
How many times have you searched for "how to get bigger buttocks?" and ended up with the solution GYM?
You don't always need a machine to complete a workout, like this one.
You can do abductor squats with only your body weight and still feel the burn.
Keep your legs apart and dip your back.
Don't lower yourself forward.
Try to think as if you were trying to sit on a chair.
Keep your back and neck relaxed.
Push your knees to the sides. (from the midline of your body to outward)
Stay in position because you may want to cheat by raising your back.
I recommend doing 30 reps of these for 2 rounds. If you need to make this harder use a resistance band.
13. Side Step Squats
These are not just one of the best exercises for butt, but they are great for warming up your glutes as well.
Lower your body as if you were trying to sit on a chair.
Keep your legs at shoulders' width apart.
You can keep your arms in front of you with keeping them crossed.
Now, slowly step side to side.
When you take a step dip your back like you do a squat.
This helps the movement to target your glutes better.
Do 30 of these for 2 rounds without stopping. Add in a resistance band for intensity.
14. Single Leg Squats
You can do this butt exercise at home easily to see results in no time. Mainly because you need quite a lot of strength to perform it.
Find a chair or a bench.
Sit down slightly touching the surface of the chair.
Stand up with the help of your other leg.
Do 8 to 12 reps for 3 sets. You might need time to build up your strength prior to doing this exercise. Therefore, try warming up your knees and legs well.
15. Bulgarian Split Squats
This is another intense glute workout you can do at home without equipment. Bulgarian split squats is one of the exercises to make your butt bigger in a small amount of time period if incorporated with a good diet.
Find a sturdy chair or a bench.
Keep one foot facing downwards on the chair.
Keep the other leg a bit further forward.
Now dip your knees down and come back up.
Do 12 reps for each side for 3 rounds.
Conclusion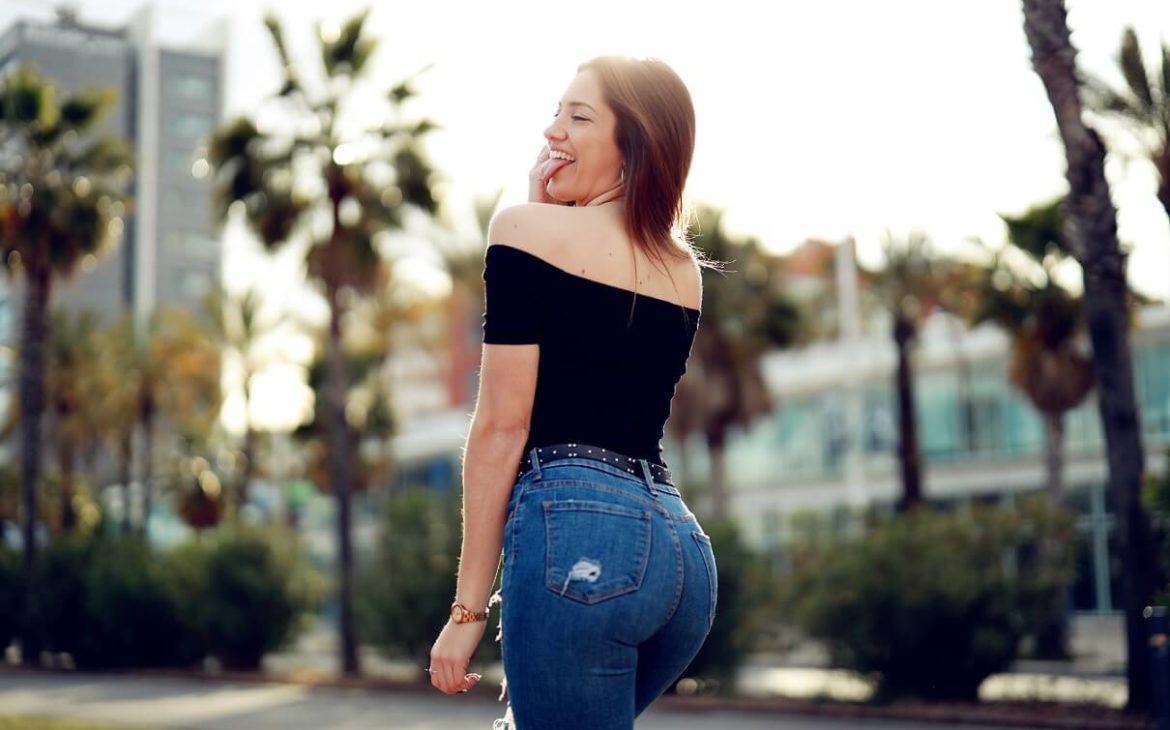 These can be considered as some of the most effective and advanced exercises to wake your glutes up.
You can do these buttocks exercises at home without worrying about going to the gym or buying gym equipment.
However, the bottom line is, you won't be able to achieve your goals only from a big butt workout plan. You need to have a rich high protein diet.
Likewise, progressive overload or the intensity of the performance should be increased over time.
This can be achieved by dumbells, plates, resistance bands or gradually including more sets.
What is your favorite among these? Share your thoughts below.