Having a flatter tummy is not all about the appeal, it's also paints a picture of how healthy your overall body is. Therefore, taking care of your core is essential and these effective flat stomach exercises at home will reveal your abs that hide behind the layer of flab in no time!
What is the big deal about a flatter tummy?
Have you ever wondered why your waist is measured every time when you do your overall body check up? Yes! You are correct. That is certainly because your waistline says a lot about your health, same as your love handles says a lot about how you have been a little too much lazy the past few years.
You don't have to be a fitness instructor or a well trained gym junkie to own a toned stomach.
A flatter stomach symbolizes a strong core strength which gives you the ability to move better, perform day to day activities better, have a healthy digestive system, being able to perform other exercises and sports better and have less muscle injuries.
The worst case scenario is having a bad heart. Who would want that? According to the harvard health blog, studies have shown that too much abdominal fat can increase the risks of diabetes and cardiovascular disease.
Hence, a strong core means you are doing everything right with your life. Period. Without further ado, let's see the best stomach exercises that you can do at home!
1. Commando Plank
Commando Plank? What? Intimidating? No! Not at all! If you prefer, you can call it the up and down plank as well. No pressure!
This exercise is so good to strengthen up both your arms and abdominal muscles. Commando plank is on top of the best exercises to tone your arms as well. That is a bonus!

Lie down on your yoga mat keeping your elbows on the ground.
Then, start pushing yourself up with one arm, and then the other.
Now, you are on a plank position. It is the time for you to get yourself back down to your elbows one arm at a time.
Keep your core engaged and straighten your back parallel to the ground without dipping the body.
If you wish to modify this exercise you can come down to your knees and perform it.
Throwing 3 sets of 15 reps of these will make sure you that this is one of the most effective workouts for a flat stomach.
2. Flutter Kicks
I remember when I was doing core exercises back in school, this was one of the most annoying exercises that I had to perform.
The main reason is that, It burns that belly like hell, and in order to keep you balanced you need to tighten your core muscles well.
On top of that, the other sad truth is, no matter how hard it was for me, this was one of the best stomach workouts you can do anywhere to get rid of that pesky belly fat faster.
First lie on your back keeping your palms downward below your glutes. This way you can support your movement.
Raise your legs 45 degrees, keeping your neck relaxed on the ground.
Now, move your legs up and down in a steady motion without bringing them too much to the ground.
You can intensify the exercise by lifting up your head a little bit.
I Can assure you that flutter kicks are one of the best flat stomach exercises to do at home.
Do 3 sets of 16 reps to murder that tummy fat faster.
3. Russian Twist
Russian Twist is one of my all time favorite exercises for getting rid of love handles, not to mention one of the best exercises for the tummy.
Russian twists challenge your core muscles to the point that they wanna stay flab free forever.
Sit on your mat, keeping your legs with a little bend.
Now, raise your legs a little bit off the ground.
Turn your torso to the right and left as if you were going to touch the sides of the ground with your hands.
You can modify this exercise to a rather easier level or make it challenging.
To make the Russians easy keep your feet on the ground and rotate your torso.
To intensify the exercise, try grabbing a dumbbell or a plate that suits your strength level and perform it.
If you have a tender tailbone or any kind of back pain, put a towel beneath your booty to support you.
2 sets of 30 reps of these will definitely take you one step closer to your dream and healthy tum.
4. Crunches
Crunches are at the top when exercising stomach muscles. Oh believe me they burn. The following day you will feel nothing but pain in mostly your upper abdominal muscles.
First, lie on your back and keep your legs bent.
Don't keep your legs too far from your body.
Now, keep your hands lightly on the back of your head and take your shoulders off the ground.
Make sure to keep your neck relaxed and look upwards without pulling your head.
If you are a beginner, 20 reps of these twice will do the trick. But, if you are familiar with belly workouts you can do more than 50 reps!
5. Crossbody Mountain Climbers
Maybe you have come across the name "Mountain Climbers" while you were googling on how to get a toned stomach. Well, let me tell you Mountain Climbers are a compound exercise, therefore your whole body is working simultaneously.
Not only your tummy, your booty, arms, hips and legs get a good workout.
For a bonus, mountain climbers increase your heart rate so much and you'll get a good cardio workout as well.
Cross body mountain climbers are the same drill but you need to cross your knees instead of taking your legs forward straight.
Come to a plank position keeping your palms right below your shoulders.
Now, take your knees forward to touch the opposite elbow one after the other.
Keep your body in a straight line and tighten your abs.
You don't need to literally touch your elbows but you should try to do so.
2 sets of 20 couple of reps of Cross body mountain climbers will make you feel like you are actually climbing a mountain
6. Leg Raises
Leg Raises are another badass tummy exercise you should definitely try.
Most of the women complain about having a belly pouch in the lower part of their abdomen and especially when it's that time of the month, that area can get bloated as a basketball.
Leg Raises can burn that belly pouch or the lower part of your abdomen faster than you have ever expected.
Lie on your back lengthening your legs.
Keep your palms facing downwards below your butt.
Now slowly raise your legs to a 90 degree angle or more and take them down in a steady pace to the ground level.
Keep your back and neck straight since when you do a couple of leg raises your body tends to slide forward.
Squeeze your belly muscles as much as you can.
Do 3 sets of 12 reps to burn that pesky belly pouch for good.

7. Reverse Crunch
Another great exercise to flatten stomach is the Reverse Crunch. This exercise is similar to the leg raises but you need a little bit more effort to perform the exercise.
Go down on your mat and lie on your back keeping your palms downwards under your butt.
Now raise your legs and when they are at a 90 degree angle, push them up as if you were pushing the ceiling away from you.
Now take the legs down to a 45 degree angle not taking them down all the way to the ground.
This makes the exercise to target the ab muscles directly.
Do 3 sets of 12 reps of these to see a vast difference in your stomach region.
8. Plank Hip Twist
Another stomach flattening exercise and a love handle killer is Plank Hip Twists. These are among my favorite exercises when it comes to measuring the strength in my arms, my back and my core. It is because you need to balance your entire body to keep you engaged with this exercise.
Get into an elbow plank position keeping your body straight.
Now, rotate your hips to right and left trying to reach the ground with them.
Keep in mind not to dip your back and to keep your butt straight.
If you are a beginner, you need to make this movement slower as you feel the burn so much in your side and front of your abdominal muscles.
Do this workout in a disciplined manner with pausing in the middle to keep your body's balance when you come to the elbow plank position.
If your elbows need a little bit of a support layer up the matt or keep a towel underneath.
Do 2 sets of 16 reps of these babies and you'll twist your way to a flatter tummy.
9. Bicycle Crunch
Another tummy flattening workout and not to mention one of the best for getting rid of love handles is Bicycle Crunch.
This exercise for abdomen is widely famous among the fitness influencers because of its simplicity. But let me get one thing straight, doing a couple of 30 reps of these ain't a walk in the park. If done properly, this exercise will burn your core muscles so well.
Likewise, Bicycle crunch targets the whole abdomen area, your back and even the upper part of your bootie.
Lie on your mat and keep your legs lengthened forward.
Now, keep your arms lightly behind your head and bring the shoulders off the mat.
Then, take your right knee to your left elbow and the left knee to your right elbow.
When you move to the other knee, the previous leg should be stretched out parallel to the ground.
Make your knees and elbows to touch simultaneously while keeping your legs straight.
Incorporate about 3 sets of 20 reps of these in between your workout to get better results!
10. High Knees
Another great workout for a flat tummy is High Knees. Yeah yeah I know what you are wondering. Aren't high knees supposed to be a warm up exercise?
Indeed! It is one of the best exercises to get your body warmed up nice and sweaty just before a cardio or leg workout or any other workout for that matter.
But the fundamental part is, how high knees can actually work as an exercise for stomach toning as well.
The reason behind this is that, when you bring up your knees to a 90 degree angle one after the other, it almost mimics a crunch.
High knees are also great to get rid of that annoying thigh fat and tighten them.
Stand, keeping your legs, shoulders width apart.
Bring your knees up to a 90 degree angle guiding them with your palms.
Jump as fast as you can minding your heart rate.
You can either jump vigorously or make it a skip as your movement gets a little slower and easier for you.
Do 40 reps of these before getting a 30 seconds break. Always pause between sets as this exercise can be strenuous to your knees and heart.
This exercise targets the whole body and keeps your heart rate up making you lose more fat all around your body.
Try adding high knees to your day today workout routine and there is no question about you loving them.
Conclusion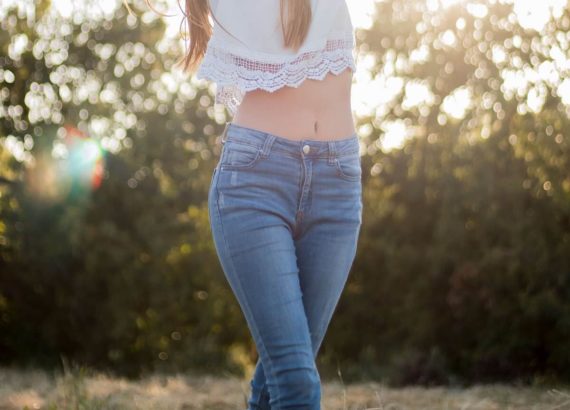 These are some of the best stomach workouts out there you ought to try at least 3 times a week. You need to be consistent when you schedule your workout regime.
Stomach region is a hard area to tame if your diet is no good compared to your dreams. Therefore, it is essential to eat healthy fruits, cutting back on sugar and use less carbohydrate as much as possible.
The upside is when you start these flat stomach exercises at home, with your other preferred exercises, your life will gradually fall into place where you always be mindful about what you consume.
Practise your mind to eat a smaller potion every time when you take a meal and drink plenty of water to reduce bloating. Use belly fat burning drinks such as green tea to help you boost your fat burning process.
What is your favorite among these core workouts? Have you tried any of them? Let us know your experiences below!